Posted on
February 12th, 2009
by headspook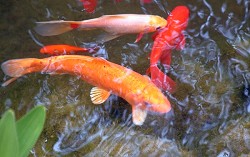 While waiting for the dogs to finish their breakfast this morning, I went out and restarted the waterfall pump for the finally-thawed-out fish pond. It has been an oblong collie ice skating rink for weeks.
Having rested idle, and probably partially frozen, the pump gurgled and burped like a baby dragon teething a VW. But after a few moments, water began spilling over the waterfall. Along with it came a mountain of leaves. I grabbed the net-on-a-pole-thing to intercept the leaves before they clogged the skimmer. Cleaning out a fouled skimmer net is a rotten job. I reached out and slid the net under the first ranks of the leaf front, now approaching the skimmer with increased speed and a certain determination.
I lifted. "Tick!" Out came half a pole. The other half remained with the leaves. Traitor. Its aluminum shaft, possibly weakened by the bitter cold had snapped cleanly.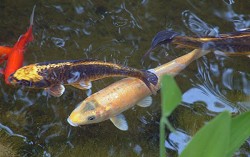 A small audience of herding animals had gathered to watch from the porch above me. First appeared the collie who only eats when it's absolutely necessary, preferring toast and jam to kibble. Then came the sheepdog who will eat almost anything handed to her, but who will sit in front of her half-full supper dish like a petulant child glooming over cold green beans long after the family has left the table to watch A-Team. And last, licking her lips with relish, came the collie who always waits patiently for the opportunity to helpfully clean up after brother and sister; and sometimes not really waiting for after to arrive.
They watched me and I watched half a skimming net float across the pond. It was at this moment that I realized something, a difference that had only registered subconsciously. The water was dark. Flat. Lifeless.
Normally the pond is a hub of constant activity and animation, a gathering and scattering of orange and gold flashbulbs lighting it up. But there weren't any now. All our fish were gone.
In a strictly Schrödinger's Cat sort of way, they weren't actually dead. Just gone. Missing. Absconded. Or more likely purloined, snatched by that damn blue heron pterodactyl-monster that's been spotted cavorting around Snug Harbor in weeks past.
Unless they're masters at underwater camouflage, safely hidden until one day when I'll see one of them blink and emerge from a wall of muck with a knife in his teeth like Rambo, then the truth of what happened here is just too sad to contemplate.
I'm not restocking the sushi bar until I figure out how to protect its new residents. You hear that an event, horrific enough, gets imprinted on its surroundings. Well, the Fish family that jumps on this prime location at "way below market" without doing a little fact checking is going to be very surprised when rocks start stacking themselves and the minnows hear voices coming out of static between channels on the shellevision.
I'm contemplating a new, permanent scarecrow to protect the fish pond. No idea what will scare a blue heron. My only other idea is to build lots of underwater caves out of rocks so that the kids will at least have someplace to hide if Rodan shows up and isn't intimidated by the
(F)ixed (I)nterdiction (S)ystem (H)ardware —
(H)eron (E)xpulsion (D)evice.