12V Haunt Lighting with Hacked LED Christmas Lights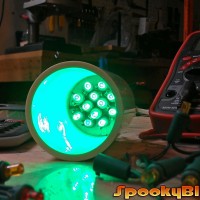 I think the secret to a successful blog is to write only about five articles a year. Your traffic, if you ever had any, will fall through the floor, and that really takes the pressure off.
This makes perfect sense to anyone who has ever been labeled a
curmudgeon
. If it doesn't describe you, however, then my definition of "successful" is almost certainly different from yours, in which case you should probably just ignore that first bit altogether.
If you're just joining the party, we are transforming LED Christmas lights into a 12V haunt lighting system. In
part I
, we touched on the genesis of this project.
Part II
covered some LED basics, and in this third and final part, we tackle the wiring, lamp construction, and a few other bits that should be helpful if you decide to build your own LED haunt lights.
More...
How to avoid going to parties and meeting people: Make giant Jack-o-lanterns out of paper mache! Name them, construct lengthy background histories about them
Bruno the scarecrow has a son, he's bigger, meaner, and he lives in our garage.
And not a crow for miles around