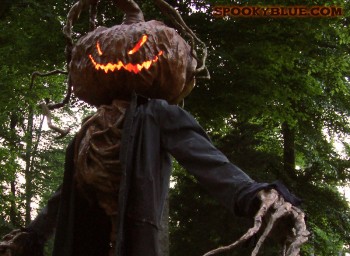 This newly completed, next generation Grumble critter sports several design improvements over his predecessor which include an inspection hatch for the electrics, and zero chicken wire. In addition to being much lighter than the original Grumble, a removable noggin and built-in stand round out what has been a great revisit to this project.
But, now that it's time to box him up and send him to the nice lady who paid in advance, I'm getting that sad "walking the foster dog to his new home" feeling. Grumble (there can really only be one) isn't as sentimental about it. Every so often you'll hear him out in the garage. "Hey, Tater! . . . Happy trails, Tater!"
No idea why he calls him Tater.