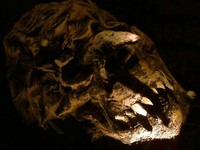 I had been experimenting, some time ago, with Great Stuff as a filler material for paper skulls. (Never give up on a bad idea.) Great Stuff, for the uninitiated, is expanding, sometimes evil, foam in a can.
To summarize, I used too much, too fast, and it expanded unevenly during the curing process. My experimental skulls collapsed as the sticky ooze did weird things, and I was left with some very scrunched up faces.
Witches, happily, often appear to have scrunched up faces. >ding!< Thus began our Witch Project.
---
Special thanks go out to the folks who encouraged, prodded, plagued, heckled, and otherwise nagged your old pal Spook into finally finishing the 'Witch Project'. You know who you are.