Posted on
August 25th, 2009
by headspook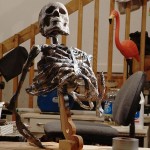 "When will the SPZBGV2.0 be posted?" We've fielded this question a dozen or so times (this week), and the simple answer is, "when it's done."
In all honesty, it turns out that we either forgot how to take pictures last year, or we misplaced the memory card that held all the good photographs that were intended for the new guide. You would think that, out of 200 odd images, someone would have noticed that the auto-focus was having a bad week.
In any case, and being the do-it-yourself types, manual focus is SOP these days. We're slowly rebuilding the ZBG media library, and even toying with adding video clips. So, thanks go out to the die-hards for reminding us (often) that time keeps on slippin' slippin' slippin' into the future. We're on it, and confidence is high that the SPZBGV2.0 will almost certainly be finished at some point.
An addition that wasn't in our original version is the evolution of realistic skeleton hands. These are made of individual wrist and finger bones, constructed from -what else- newspaper and duct tape. Here's a sneak peek.