Posted on
August 4th, 2011
by headspook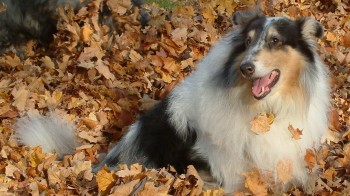 Pet owners facing the end of a pet's life often ask the question, "When do I know that it's time?" My answer has always been, "they'll let you know," but I could never quantify what that meant until early this morning.
Our Collie, Hannah, who loaned us our namesake "Spooky Blue", passed away this morning at the age of 12.
In these later years, painful arthritis made walking difficult for her. She had suffered a type of nerve damage that took away her bark and sometimes made it hard for her to breathe. All this she took in stride. She adapted, and barks became "hoots". Although it hurt to get up, she still got up. No matter how long it took to trudge up the little hill where she liked to sit and survey, she trudged, rested, trudged, and always got there. She swiped Georgie's toys and paraded around, blatantly daring her Sheepdog sister with her trademark swagger, but always letting her win the duel.
However she felt, whatever her troubles, she never failed to have a smile ready with a faceful of kisses. And if that wasn't enough to get your attention, she might gnaw your arm or steal a sock.
When that reservoir of endurance runs low, and when she has nothing left for smiles and hoots, then it's time.
She kissed us both thoroughly this morning before going to sleep, peacefully, in our arms. And even though this hurts worse than any goodbye I've been through yet, I don't believe anyone ever got a better send-off.