The rest will be made into pies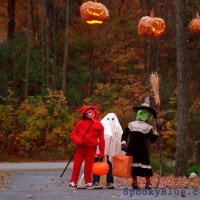 On the outskirts of civilization, where the occasional homestead or free-hold is separated by miles of corn, cows outnumber people, and two tractors meeting are likely to close a stretch of road while their drivers catch up on local gossip, there lives the far-flung haunter.
Halloween night can be a bit anticlimactic for this type. He'll see few, if any, trick or treaters. This isn't really an issue for the resourceful outland haunter with a healthy "build it yourself" attitude.