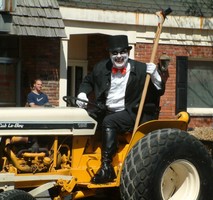 At the end of the 1953 movie "Invaders From Mars", we are subjected to an agonizingly prolonged flashback sequence in which the annoying little David MacLean flees from an exploding Martian flying saucer and relives essentially the entire movie up to that moment.
December is sometimes like that.
As the last few weeks of 2008 grind away and we reflect over the past year, I can say without reservation so long and you're welcome to it. Crashes, storms, upheaval, the break from nicotine,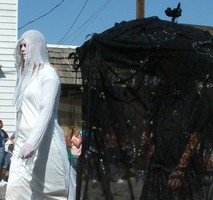 madness. Blargh! But there were some bright points.
One of those was working with a pack of willful and mutinous kids on their "Nightmare" haunted house. If your own haunt doesn't quite empty out that reservoir of time and energy, then this is an experience that I recommend. Track down some of your local 4-H people or find a Catholic youth group (they tend not to be as spooked by all the scary Halloween symbology), and see if they're planning a haunt and could use a hand.
You'll have fun. You'll wonder what in the world you were thinking. But mostly you'll have fun. I got to drive a tractor in the Harvest Homecoming Parade, and I discovered a "ringleader" alter ego. Sort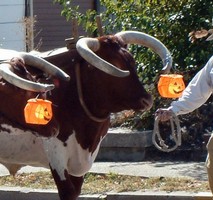 of what you might get if you tossed PT Barnum, Pennywise, and Krusty the Clown into a blender. A split personality is a terrible thing to waste.
There were setbacks, though, and I pledged that I wouldn't get quite as intricated in outside haunts next year. But sometimes I think that inner peace boils down to competent time management, and improving that skill could keep these other doors open.
Artist types are quick to lock themselves away, and they'll collect cobwebs if they aren't taken out into the light and shaken from time to time.