Like countless other "monster kids" of my generation, I grew up reading about the classics of the horror and sci-fi genres in a little magazine called Famous Monsters of Filmland. Editor Forrest J. Ackerman and his ackolytes had turned us all on to films produced 30 and sometimes 40 years before we were born, and names like Chaney, Karloff, Lugosi (and yes, even Rondo Hatton) were being spoken in hushed reverence in study halls and playgrounds across America. It was a time before cable TV, before Blockbuster and the instant accessibility of the VCR, and if you wanted to see a classic like Bride of Frankenstein, it meant poring over television listings for months, or years...hoping...

And then came Fright Night. What set it apart from other "Shock Theater" shows was its choice of movies and (most important to us 8-year-olds) its airtime. WDRB's decision to run a double-feature horror movie bill from 7 to 10 PM on a Saturday night in prime time was almost unheard of! This was the early 70's, the era of CBS' killer sitcom lineup of All in the Family, The Mary Tyler Moore Show and others, and it seemed like a suicide move. What it was was an alternative-- and a surprise hit. And the movies, classics (and not-so's) from the vaults of Universal, Columbia, MGM and the like, were not to be found on the other, late-night Creature Features show running on the ABC affiliate WLKY. Our prayers had been answered-- and a new local folk hero--The Fearmonger-- was born.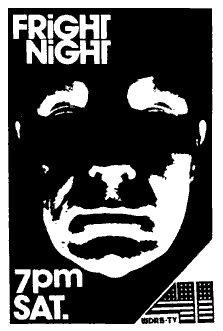 There's no doubt about it, Channel 41 was a low-budget operation. Broadcasting from a converted garage on East Main Street, they had very little in the way of funds or set space that wasn't already being used to support the afternoon kid's shows and the news desk where Wilson Hatcher, the station announcer, gave the occasional update. Their solution to the problem of providing a host and his environs for Fright Night was unique--there would be no set. Instead, a dimly uplit, slightly solarized face would slowly materialize out of the darkness to introduce the movies (and crack a few well-worn howlers from the Barnabas Collins in a Funny Vein joke book) and then fade mysteriously away again into the night.



And the man to personify the newly-christened Fearmonger would be local actor and long-time TV and radio commercial performer Charles Kissinger. By the time his stint as The Fearmonger rolled around, Charlie Kissinger had already become something of an institution in local theatre, performing in several productions of Shakespeare in Central Park and at Louisville's prestigious Actors Theatre. He was a prolific writer and performer of tv and radio commercial spots and a talented voice man as well-- in fact, his voice can still be heard occasionally on radio spots for some of his long-time clients! Although he spent a brief time on the west coast in the late 60's, his film career didn't really take off until he returned home to Louisville and met up with another local legend of sorts, exploitation director William Girdler.

Charles appeared in several of Girdler's movies, starring in the legendary Three on a Meathook and Asylum of Satan and appearing in supporting roles in just about everything else Girdler ever produced including Pam Grier's Sheba Baby, the notorious blaxploitation Exorcist knock-off Abby, Grizzly, The Zebra Killer and The Manitou! Just as Girdler's budgets and quality of production were beginning to rise, he was killed in a helicopter crash while scouting locations in 1978.

Charlie continued working steadily in theater and advertising throughout the 80's, but declining health put him in the hospital, and he died of a heart attack at St. Anthony's Medical Center on January 21, 1991 at the age of 66. He is buried in St. Louis Cemetery. He was a veteran of the United States Army during WW II, and a member of the Screen Actors Guild, Actors Equity, and the American Federation of Television and Radio Actors. While he had a diverse career in many media, his portrayal of The Fearmonger is what locals remember him most --and fondly-- for.