Sage Advice

Measure your crank arm before you attach it to the motor shaft to make sure it won't hit your support structure. We did that.

Also (and this is important) make sure your arm is shorter than the distance between the motor and the pulley that supports the head of the marionette.

It's vital to the well-being of your ghost that the crank arm not touch any of the pulleys during operation.

Trust us on this one.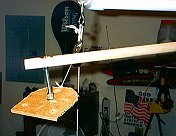 A large metal plate turned out to be a better solution than this particle board after it contributed to the unfortunate FGCide upon it's first test run.
Some ingenious engineering by my brother married a 3' long wooden dowel to our metal rotisserie shaft at 90°.
Rumor has it that he was heard to mutter something about this
wedding being only slightly less painful than his own. This rumor is
unequivocally NOT true.*
We used some particle board for the first version of the...doohickey that hangs from the crank arm to which the strings are attached.